OHASHIATSU® SCHOOL UK

WELCOME TO CLASS
"You're just a touch away from first class education in self-development and personal wellbeing"

The Ohashiatsu® is a method of toning and healing contact that gives energy, relieves tension and fatigue. Studying Ohashiatsu® means starting a journey of self-discovery and self-healing.
Developed by master Ohashi over the years of practice, teaching and observation of human nature, Ohashiatsu® incorporates contact techniques, movement, meditation and philosophy of oriental care. The Ohashiatsu® courses and treatments are truly holistic experiences, involved at the level of body, mind and spirit.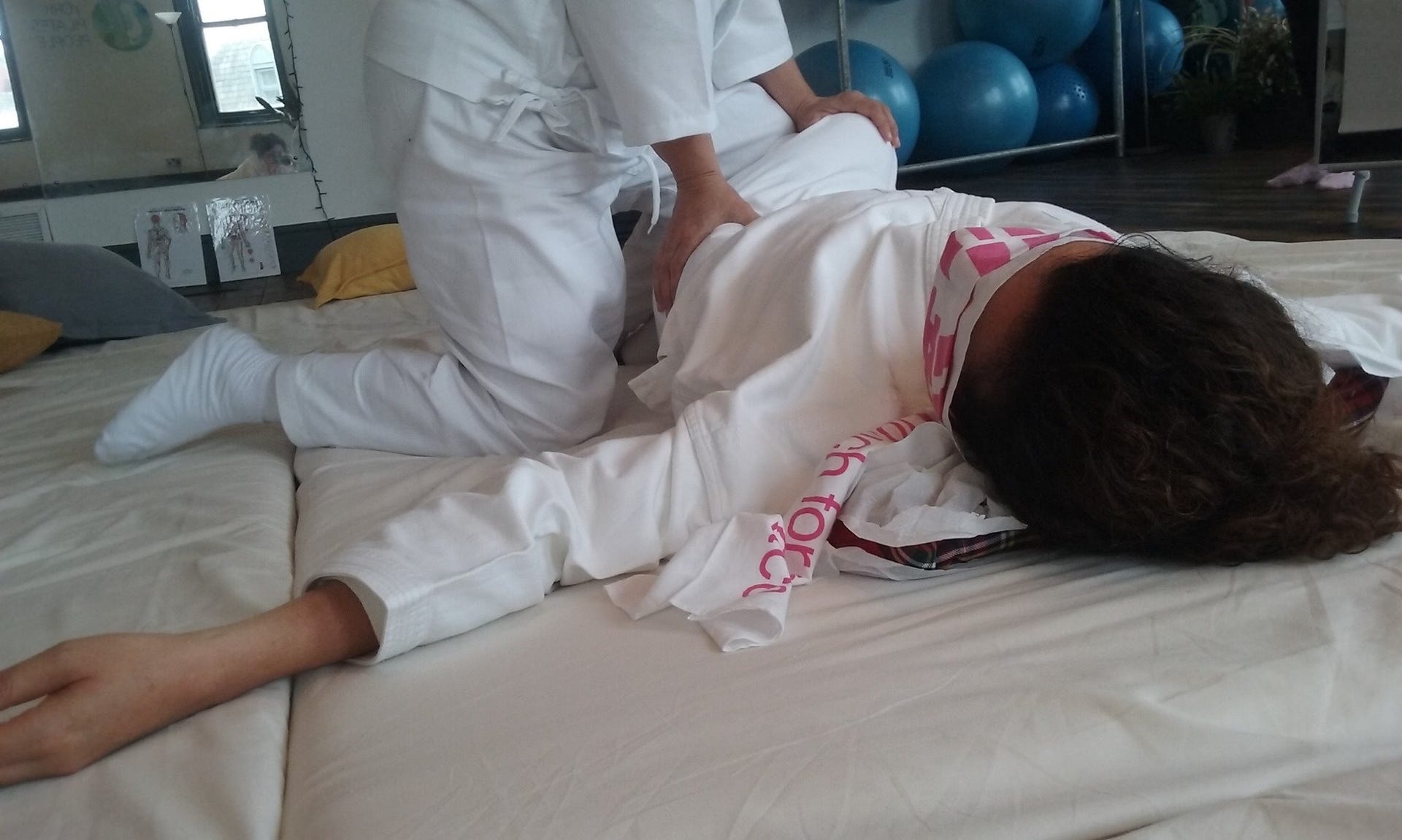 For Laypeople: the healing techniques Ohashiatsu can be used immediately on yourself, family and friends. The meditation and exercises in the course work help you become healthier and less stressed. More than 40% of each class is actual hands on and practice.
For Professionals: the principles behind Ohashiatsu will help you save your body from injury and fatigue. Ohashiatsu goes far beyond body mechanics – it helps you improve your health while you are working. Learning to use strength from "Hara", rather than your muscles benefits your clients, giving you the possibility to work more in depth and efficiently.
Youtube content can't be displayed with your current cookie settings. Select "Show Content", to view content and agree to the Youtube cookie settings. Get more info in the Youtube Privacy Policy. Opt-out here at any timecookie setting.
Show Content
Introductory workshop/Open Day
Find out what Ohashiatsu® is and begin to learn about the energy that moves the body, through exercises and to contact the partner according to the basic principles with Ohashi's body technique. The introductory seminars are open to all.
During OPEN DAY you can:
- Begin to know each other and contact the other according to the basic principles of Ohashi's body technique
-Become more aware of your own body movement
- Practice exercises to perceive the body's ki
- Learn exercises that move the body's ki energy
- Know the location, the major points, the functions of two of the 12 traditional meridians of the human body
- Learn to contact these two meridians with Ohashi's body technique.
We are waiting for you dressed in comfortable clothes.
All Courses Ohashiatsu®
Find the basic courses to take the professional path of Ohashiatsu®.
The courses, developed to improve the health and well-being of those who practice and those who receive are a set of lessons, exercises, meditations and practical experience.
During the courses you will learn:
- How to keep yourself relaxed and focused
- How to use energy flow in everyday life
- How to better know yourself and others around you
- How to experience that relaxed muscles produce greater force
- How to practice healing techniques for yourself, your family members and clients
- Avoiding getting tired / damaged during practice.
The Ohashiatsu® Seminars
Deepen the basic knowledge of training courses with complementary seminars. The seminars are open to both Ohashiatsu® students and the general public.

"Caterina is a very experienced and intuitive practitioner that will transform your body from stressed and tensed into a relaxed grounded state. She listens deeply to where you need to release tension and guides your muscles into letting go. I would highly recommend you experience her skills and let her work her magic with your body."
Kalyani Ma Mukti
Mentor, Transformational Coach and Totality Therapy Practitioner
"I very much enjoy going to Caterina for an Ohashiatsu treatment. She has a magical touch exuding a confidence as a body worker that allows me to totally relax and feel safe in her hands. I first went to Caterina when I was feeling exhausted after moving house. I quickly felt the benefit from the initial treatment and now I continue to have regular sessions with Caterina as it helps me maintain general well-being."
Josie Wood
Transformational Coach
Thank you.